Leslie Castellano.
A multidisciplinary artist with focus in movement and performance practice, I work with shifting the state of the body through physical images, touch, magic, and wilderness. The ideas here are experiments in navigating meaning, beauty, and critique in a haphazard landscape. Discussion is encouraged.
I teach classes in contact improvisation, improvisation, butoh, performance making, yoga, and aerial dance.
I regularly make new performance work and create eclectic art projects with diverse communities. Some of my collaborators include Kevin Dockery, Synapsis Performance Collective (I am also the founder), Trajectory, Miriam Wolodarski/Sense Object, Karl Frost, and Isabelle Kirouac.
l.castellano.movementstudies@gmail.com
707.616.3104
for information about the Synapsis Performance Collective
www.synapsisperformance.org
I think your sensing of the world is important.
"Free School of Future Communion" is a durational performance directed by Leslie Castellano with collaborators Nicole Casado and Jonathan Kipp exploring themes of loss, togetherness, and survival. We question "nature" and investigate being. This performance is accompanied by a series of lectures written by Castellano on themes of communion. Performance includes dance, tasks, induced states, audience participation, and live music by Jonathan Kipp.
Photos by chani bockwinkel
The Body Discourse Project is a dance developed from a multi-year investigation of embodied experience between the margins. Performers from a wide variety of backgrounds have been researching the languages of the body. We ask ourselves about how we sense the body. The piece explores themes of equality and justice, joy, sexuality, personal narrative, physical comedy, and collective experience. The Body Discourse Project is a collaboration between artists from Trajectory and Synapsis. Leslie instigated the project and developed the collaborative framework.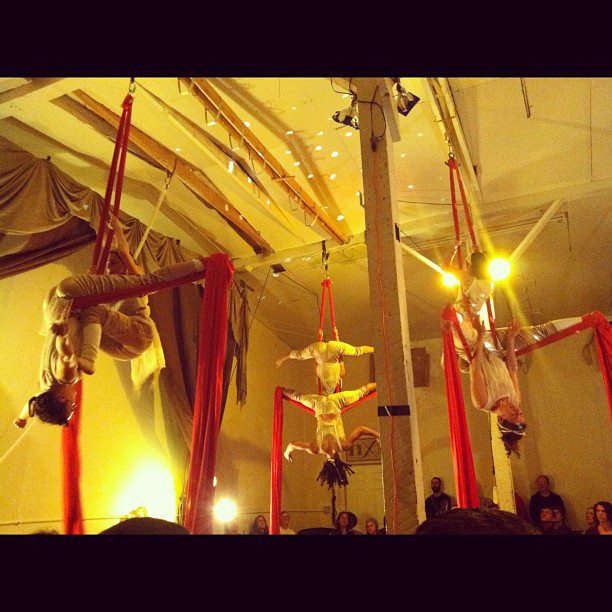 As a member of Synapsis Performance, Leslie has written and directed several full-length aerial dance shows. Most recently, "Oceans Deep" was a critical look at humans' relation to the ocean interpreted through myth, aerial dance, theatre, and original music.
Other projects include "Soft Reigns", "The Hoofpaw Rebellion", "Do Capitals A Title Make?", "Of Limb and Language", and "All Are Welcome"
More information can be found about these projects elsewhere on this site.